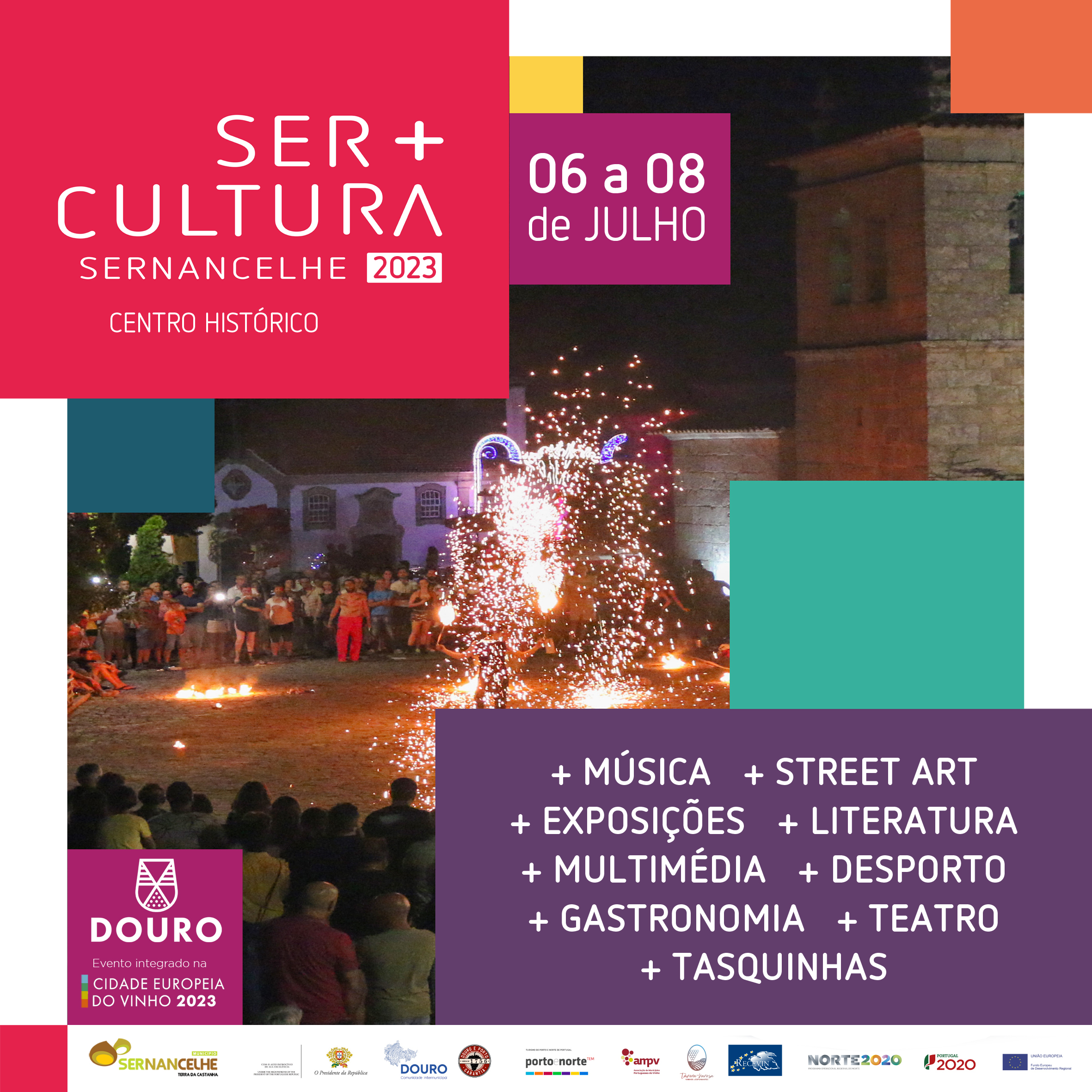 Ser + Cultura, Sernancelhe 2023
On July 6, 7 and 8, Ser+Cultura returns to its origins, the Historical Center, for another edition of the Festival of Culture in Sernancelhe. Concerts, theater, exhibitions, street art, literature, multimedia and food will take over the Land of the Chestnut.
Dozens of artists will perform during the three days of Ser+Cultura, showing "innovative and dynamic concepts, where culture and its performers are the protagonists, in a diverse show that aims to attract audiences with different sensibilities and enhance the cultural and architectural heritage.
In total, there are dozens of distinct cultural moments: fado singer Elsa Gomes, composer and pianist Yuki Rodrigues, RHP band, Academia de Música de Sernancelhe, timeless band Divagando, Ruben Portinha with new record "Conterrâneos", SAMBAJAZZY, Pedro Duvalle Duo with Sofia Campos, INAKUSTIC, SENZA, Portuguese rock with SUPERNOVA, Dj Pedro Duvalle - are just a few examples.
Handicraft and gastronomy will also be in prominence with stalls strategically placed near the stages. More than a dozen spaces will represent the arts and crafts of the county, while the taverns will offer local cuisine, with the most authentic flavors of the Land of the Chestnut. It should be noted that the shows, all free of charge, will rotate among the various stages listed and will be complemented by street performances that will arise spontaneously in some strategic corners of the region.
In all, there are "dozens of actions that stand out for their interactivity with the public and appeal to its participation, taking as main objective the offer to visitors of cultural moments in the context of the unique heritage of the historic center" of Sernancelhe.
In a register that has remained unchanged, Ser+Cultura seeks for artists to be the great protagonists of Sernancelhe's nights, illuminated by the exceptional architectural heritage that characterizes the Historic Center, remarkable for its 894-year history and the harmony of the Church temple with the administrative buildings such as the old Town Hall and Jail, the Manor House of the Marquis of Pombal's family, or even the House of the Comenda de Malta, the great builder of Sernancelhe and of the development of several of its parishes.
The warm July nights invite you to discover culture at the Festival da Terra da Castanha - Ser+Cultura.