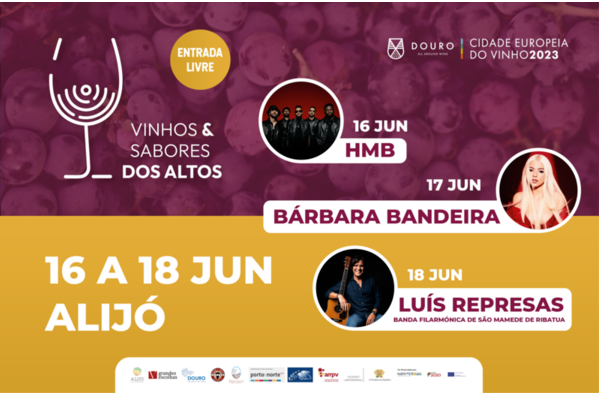 Feira dos Vinhos e Sabores dos Altos - Another Douro to be discovered
The Municipality of Alijó will once again hold the Altos Wine and Flavors Fair - a showcase for the wines and flavors of the Alijó plateau, which will take place on June 16th, 17th and 18th, in the Parque da Vila.
The 2023 edition marks the beginning of a strategic bet of the municipality that aims to create the brand Vinhos dos Altos, in order to promote the territory and enhance this niche market.
"This is another Douro that we make known, where white wines play a prominent role and that is less publicized and recognized in the region. We want to change this paradigm, the Douro, especially at higher elevations, is able to put on the market wines of excellence, of great quality and with a unique personality," says José Rodrigues Paredes, Mayor of Alijó.
The Vinhos dos Altos embody and transmit the passion of their producers, poured into each wine. They represent a balanced combination between passion and work, between respect for tradition and creativity.
From June 16th to June 18th, 45 wine producers will be present, from small to large, who produce (or have their production and bottling units) in the Municipality of Alijó. There will also be some local exhibitors, namely olive oil, bread, meatballs, honey, and dried fruits, which will show the region's potential in this event that attracts thousands of visitors from all over the region.
Throughout the three days of the event, visitors will have the opportunity to get to know several producers up close, as well as enjoy a vast program that includes commented tastings, lectures, showcooking dedicated to tapas and Galician folk appetizers, in a restaurant area prepared to receive visitors, and lots of music. This year there is also something new - a classic car tour that will go through farms and places of tourist interest in the County.
As in previous years, the Vinhos do Alto Press Choice Contest will be held, aimed at professionals, who will choose the best wines from the producers present at the Fair.
"In recent years, Alijó has seen a new generation of producers with a very unique identity who have dared to create wines that are different from the usual profile of the Douro. These are producers who are located on the Alijó plateau, a cooler area of the Douro which, for a long time, was off the radar" - adds the mayor.