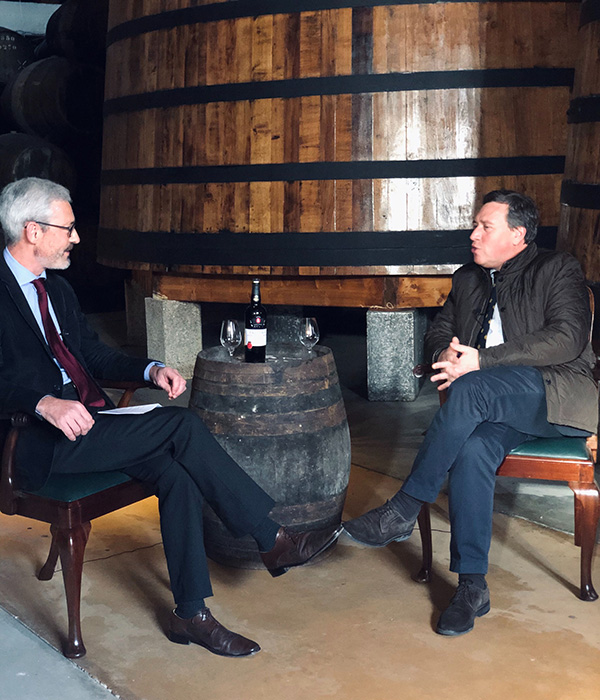 David Guimaraens
A giant of the Port wine trade is approaching me down a corridor between two rows of enormous vats. A ray of late afternoon light pierces the gloom of the cellar from a high window. I am at Quinta dos Barões to meet David Guimaraens, Technical Director and Head Winemaker of The Fladgate Partnership. Guimaraens is the man responsible for overseeing production at some of the market's most prestigious Port houses: Taylor's, Croft, Fonseca and Krohn.
We settle into a couple of armchairs, a Port wine cask serving as a table placed between us. The air is crisp and chill, sweetly fragrant.
Time is a recurring feature of any conversation about wine, and particularly relevant in a discussion of Port. Guimaraens explains the "Port trade is entirely different to the table wine business," as Port is aged for long periods of time in wooden vats.
Guimaraens is the sixth generation of his family to be involved in making Port. He works with vineyards often planted by his grandfather, to make Port which will be aged over many years, before being drunk by his grandchildren and their contemporaries! This is an extraordinarily distended timeline for the creation of any product.
At nineteen, the young Guimaraens was given a one-way ticket to Australia by his father to study winemaking. The elder Guimaraens understood that "in Portugal we have a lot of traditional and empirical knowledge, but by travelling to the new world you see the opposite extreme of winemaking expertise." Since his return to Portugal in 1990, Guimaraens has tried to combine the best of these two approaches. If we are to evaluate his career by The Fladgate Partnership's leading position in the growing premium Port market, it has been a notable success story.
Like other celebrated winemakers I have talked to, Guimaraens is content to 'share his Oscar'. When I ask what Port he would recommend to a wine collector hosting the dinner to end all dinners, he replies without hesitation, "the 63 Fonseca has always been my reference vintage Port, it was one of the Ports my father made." Then, of course, there is inevitably the vineyard, a sensitive partner in the winemaking process. "Like a person, a vineyard needs to grow up before it becomes more interesting and mature."
At the summit of the Port quality pyramid stands Vintage Port, with each Port house only declaring a vintage two or three times in a decade, after an outstanding viticultural year. Vintage Port has a function for a Port brand similar to that played by haute couture for a fashion brand. It provides an opportunity for the winemaker and his blending team to create an exceptionally high value added Port, which will continue to improve over time as it ages in the bottle, and probably become one of the world's truly fine wines.
In recent years Port has extended its stylistic range. To an Aged Tawny, just a step below Vintage Port on our quality pyramid, Port houses have added Dry White Port and Pink Port, two accessible styles which appeal to younger consumers. This year, Taylor's is celebrating the 50th anniversary of its first Late Bottled Vintage Port, a category that is now a best seller.
Over the last fifty years, the almost unlimited supply of low cost labour, always a pillar of Portuguese wine production in pre-Revolution days, has disappeared. Production methods have been modernized and, even in Port wine production, traditional foot treading in stone lagares has sometimes been replaced by robotic treaders.
A further shift in viticulture and winemaking is provided by climate change. Guimaraens remarks, "I'm not concerned about rising temperatures. In the Douro, with different altitudes and orientations, we have the capacity to adapt." Vineyards in the Douro are used to the dry climate and Guimaraens observes that the Douro is a perfect example of a sustainable wine region. He adds, "in Port we find the most sustainable style of wine for our region." His main concern is freak weather which eludes all planning and devastates vineyards.
Guimaraens is proud to have created the Douro Valley's first organic vineyard, at Fonseca's Quinta do Panascal, with his viticultural colleague Antonio Magalhaes. Taylor's also boasts an innovative water management project at its Adega de Vargellas winery.
And how about economic sustainability in the Douro? Guimaraens expresses concern at the rigid rules which still regulate viticulture and wine production in the region, with grapes for Port production being sold at a far higher price than the loss making price achieved by grapes for table wines: "We have an economic sustainability issue in the Douro, with grape farmers often living in poverty. This is a tragedy for which all stakeholders share responsibility."
He turns to the Taylor's Late Bottled Vintage 2015 standing on the cask between us, and pours two glasses. "We need a lot of good quality grapes to make the LBV category. This Port has all the qualities and fruitiness of a young vintage Port, but a smoothness which you achieve with five years ageing in the wooden vats behind us." We raise our glasses… perfection!
The author, James Mayor, is the founder of Grape Discoveries, a boutique wine tourism business: www.grapediscoveries.com