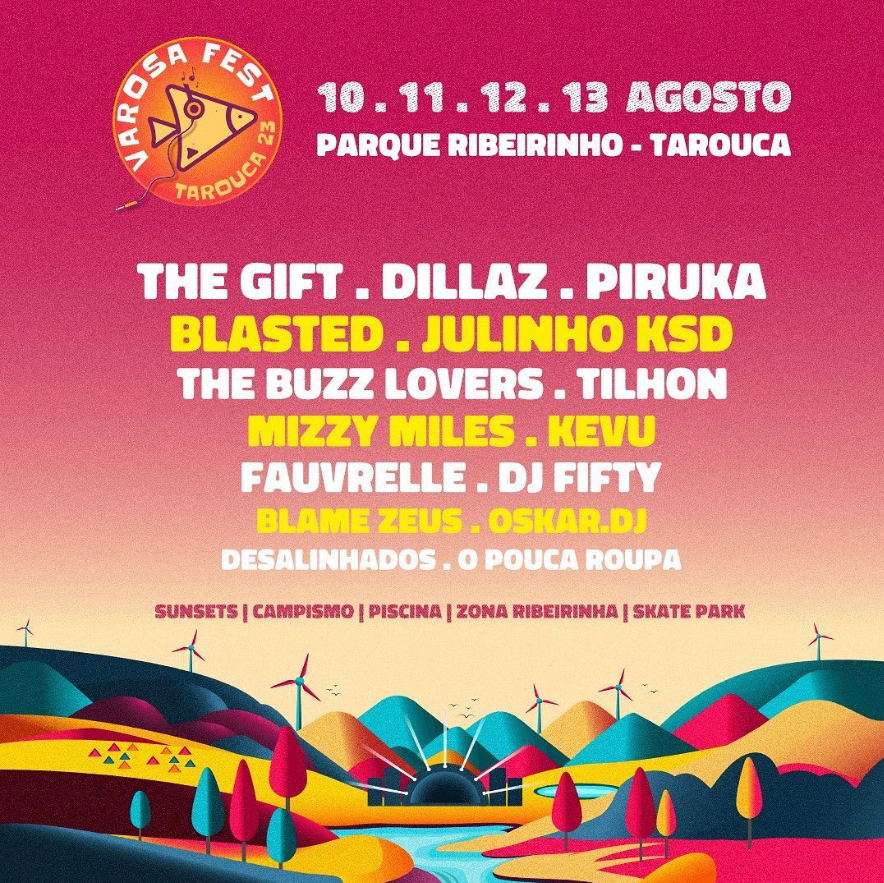 Varosa Fest
Varosa Fest will be a music festival that aims to assert itself as a promoter brand of the territory of Tarouca, but also wants to be an inclusive, environmentally responsible and mobilizing event.
Varosa Fest starts this Thursday (August 10) in Tarouca. The event, which is in its second edition, will take place in the Ribeirinho Park of Tarouca. Dillaz, Piruka, Julinho KSD and The Gift are the headliners of the festival that runs until Sunday (13th).
The Chamber, which organizes the event, expects Varosa Fest to attract more people than in the last edition. According to the vice president of the Chamber, José Damião, last year Varosa Fest had up to 5,000 people inside the Ribeirinho Park. This year the expectation is "a little bigger", he said at the presentation of the event, held last April.
Rapper Dillaz will open the festivities this Thursday, accompanied by Tilhon, Mizzy Miles and DJ Kevu. On Friday (the 11th), Varosa Fest will welcome Piruka and Blasted Mechanism, who have been performing for over 27 years, as well as heavy rock group Blame Zeus and DJ Fauvrelle.
On Saturday (the 12th), Tarouca will host the performances of Julinho KSD, DJ Fifty, The Buzz Lovers - a Nirvana tribute group - and the band Os Pouca Roupa, from Viseu. On the last day, The Gift will be present in a day filled with the performances of Desalinhados - a band from Tarouca - and Oskar DJ.
José Damião classified Varosa Fest as "probably the best territorial promotion event" in Tarouca. "When we thought of Varosa Fest, we thought of a territorial promotion event that could affirm Tarouca at a different level than usual," said the mayor.
"We say that young people are the future of tomorrow, but we have to prove it and demonstrate it, Varosa Fest is a bit of that proof. It is to do something for them, something differentiating and something that is not for the people of my age. Varosa Fest is their space", he said.
In addition to young people, Varosa Fest also wants to attract another audience through proposals such as Blasted and The Gift. "We did not leave at any time that, if young people have a different spirit of living and listening to music, we had to add other generations that joined the young people and were able to listen to different music," added José Damião.