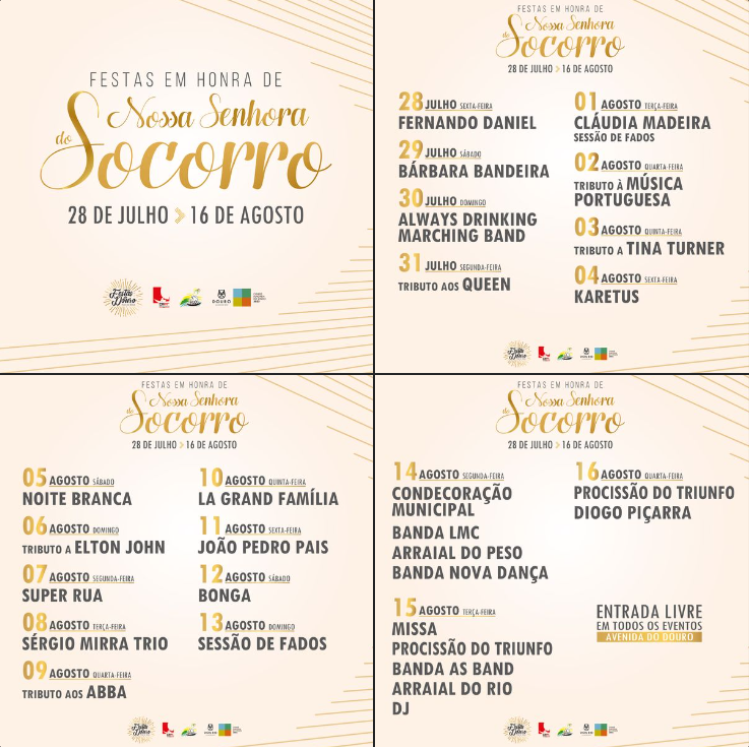 Douro Festivities 2023
The main festival in Peso da Régua is the Festival in Honor of Nossa Senhora do Socorro, which has a very busy program throughout the month of August, having its epicenter on the weekend of August 15th.
Peso da Régua opens its doors to thousands of faithful in a festival that lives from the religious, but also from the profane. The party program includes the night of the 14th of August in the upper part of the city, where thousands of people join in revelry in a party that lasts all night with dances, traditional food and drinks, and a fireworks display. . The Triunfo Procession (on the 15th and 16th of August) which stands out as the highest point of the festivities and Arraial do Rio which parallels the best that is done in the country, distinguished by the use made of natural potential as the Douro river and the terraces that surround the city and that give these shows a unique setting.
From the party program Fernando Daniel stands out, right on the first day – 28 July -, followed by Bárbara Bandeira. João Pedro Pais, Bonga and Diogo Piçarra are some of the names that deserve equal mention in what is the animation of the Douro Festival 2023.
We are once again living in a special era, in which the people of Regu reinforce their devotion to Nossa Senhora do Socorro, fulfilling a centuries-old tradition.
Every day there will be a new party! Join Peso da Régua!