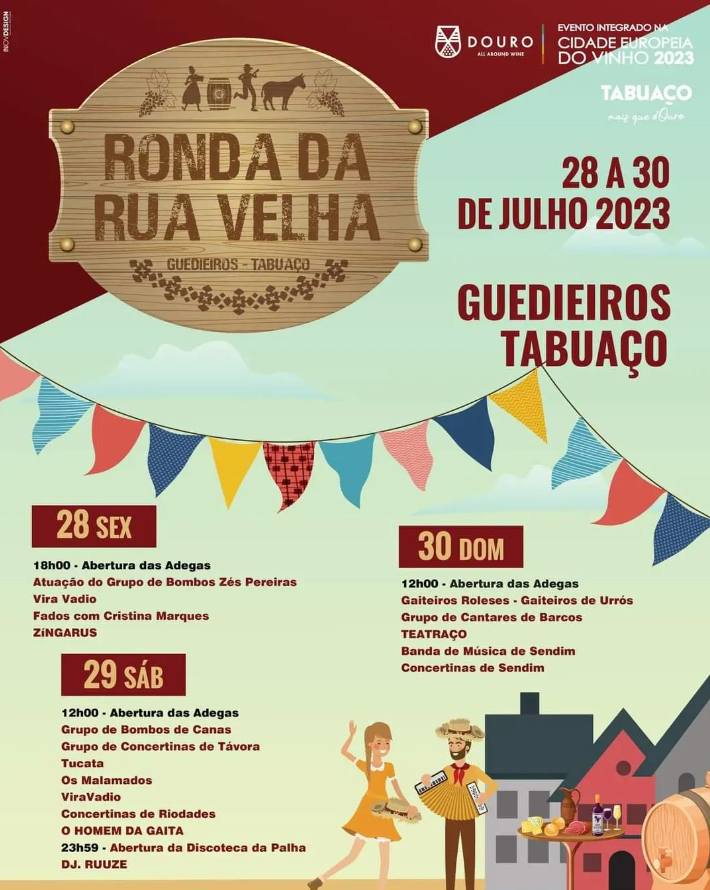 Ronda da Rua Velha
Guedieiros opens the doors of old wineries and invites you to the Ronda da Rua Velha, from July 28 to 30. An event that brings together entertainment, gastronomy and direct contact with the roots, uses and deepest customs of this small and rural parish in the municipality of Tabuaço.
An event integrated in the Douro European City of Wine, it is already considered the most eccentric and original event linked to gastronomy and wines in the municipality of Tabuaço. And, therefore, one of the most awaited, sought by thousands of people every year in one of the smallest towns in the county.
Whoever arrives in Guedieiros and passes the Portal da Ronda, begins what will be one of the most incredible experiences in the world of gastronomy and wine. For three days, those who make the Ronda da Rua Velha, will know a genuine culture closely linked to gastronomy and flavors, with snacks and local and regional products, and to which, inevitably, is associated the permanent street animation with musical groups and arruadas.
The small town opens the doors of old houses from where, overnight, taverns, bars and typical wineries are born with the best that the municipality has to offer. Throughout the streets there are gaiteiros and fado singers, tunas, concertinas and theater artists, and on the way back everyone still meets in what was once D. Alice's chicken coop and, for the Ronda da Rua Velha, is born as the famous Disco de Palha, where everything happens but nothing is revealed!
For the organization of Ronda da Rua Velha, "this is the best way to boost and make Guedieiros known, show the customs of our people and, obviously, create bonds with those who visit us".