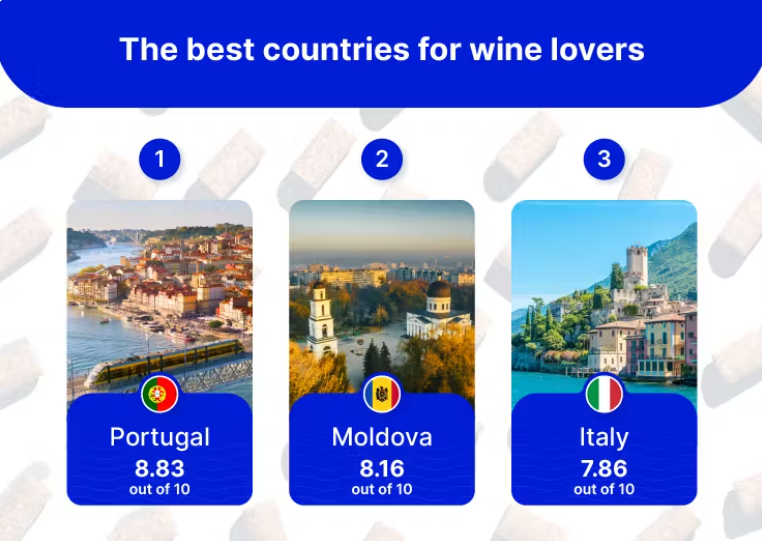 Portugal: Best Destination for Wine Lovers
With a rating of 8.83 out of 10, Portugal was distinguished as "the best country for wine lovers". The country tops our ranking, with 58 liters consumed per person, 25.5 wine tours and tastings per million people and 2.09% of the country covered by vineyards.
Perhaps the most famous wine region is the Douro Valley, located in the north of the country, and others include the Dão, Alentejo and Vinho Verde regions. Portugal produces a wide variety of different types of wine, with Port wine, named after the city of Porto, being the most famous.
Also in the category "Largest wine consumers per capita", Portugal receives the gold medal with 58 liters per capita.
According to Bounce's data, Portugal consumes 600 million liters of wine per year, which is less than nations like France and Italy overall, but the highest consumption when measured per person. Wine is an integral part of Portuguese culture, with a long history of wine production dating back thousands of years.
With its stunning landscapes, picturesque vineyards and a wine heritage that dates back centuries, Portugal offers an astonishing variety of wines to suit every palate. From the full-bodied wines of the Douro to the fresh and citrusy Vinhos Verdes, the legendary Ports to the elegant wines of the Alentejo region, there is a plethora of options to explore and enjoy.
What's more, the warm and welcoming hospitality of Portuguese winemakers makes every visit to a winery a truly enriching experience. Wine lovers can get to know the country's wine culture in depth, learn about production traditions and taste high-quality wines, often accompanied by rich local cuisine.
The diversity of Portugal's wine regions, along with the quality and authenticity of its wines, captivates visitors and invites them to explore every corner of the country. From the UNESCO World Heritage-listed Douro Valley to sunny Alentejo and the picturesque vineyards of Dão, each region has its own distinct characteristics and offers a unique experience.
Being voted number 1 by Bounce is a recognition of the commitment and dedication of Portuguese producers to create exceptional wines, preserve their traditions and share their passion with the world.
Portugal is undoubtedly a must-see destination for wine lovers, providing unforgettable moments and flavors that last in the memory!
If you are a wine lover, there is no better place to be than in Portugal. Discover the secrets of Portuguese wines, toast with joy and enjoy a truly extraordinary oenological experience in this charming (and award-winning!) country.