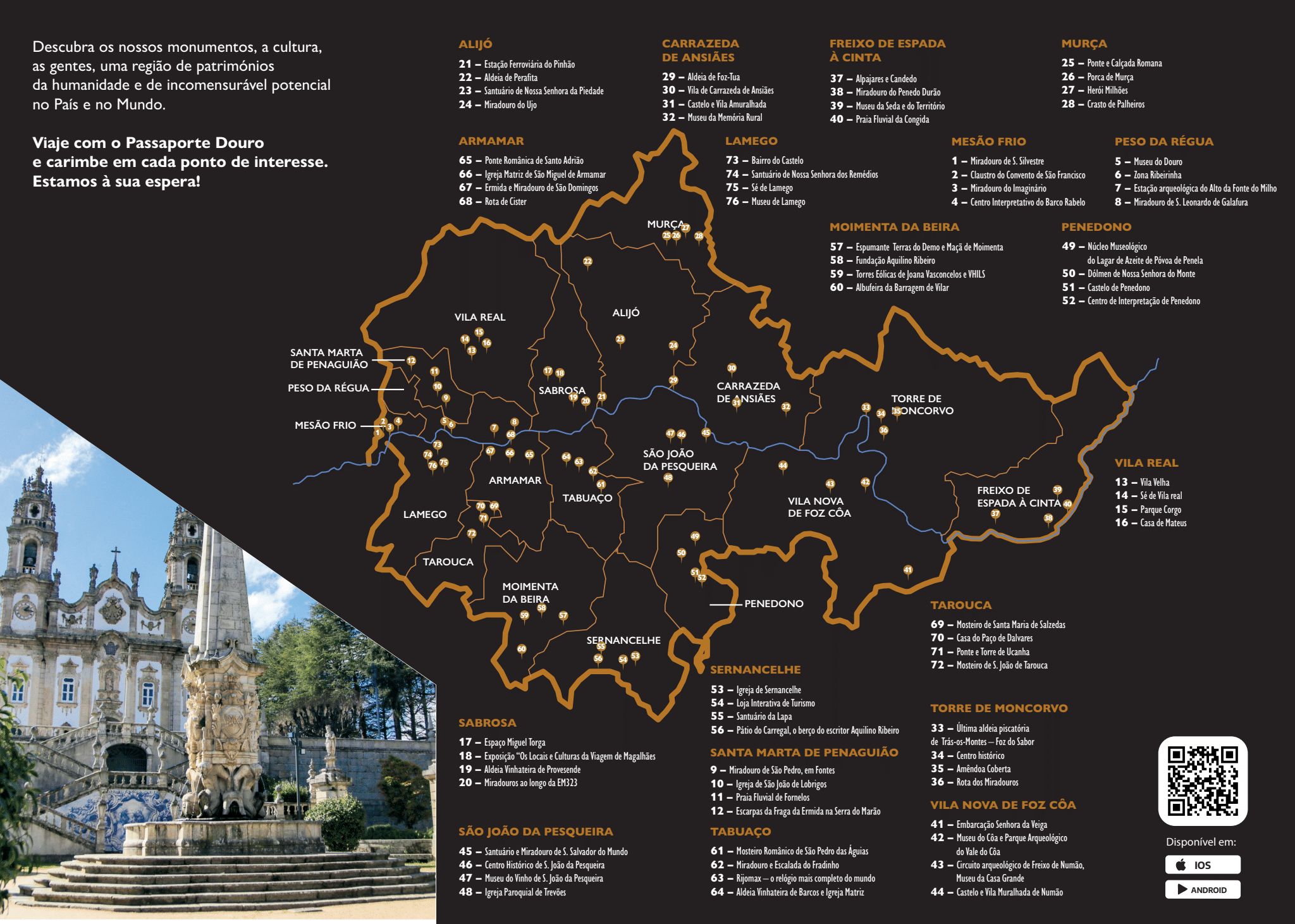 Douro Passaport
"Discover and live a unique experience!" is the slogan of Passaporte Douro, the unprecedented project that CIMDOURO developed to promote the 19 municipalities that constitute it.
Passaporte Douro is the action that aims to show the Douro in its differences and its riches, which elects the monumentality, culture and people as the most important of this immense region of World Heritage and immeasurable potential in the country and the world. It is also an initiative that aims to boost tourism in the Douro after the long period of near stagnation caused by the Covid-19 pandemic.
Relying on partnerships with the Wine Institute of Douro and Porto and Tourism of Porto and North of Portugal, CIMDOURO believes that these entities give an extraordinary dimension to the Passport Douro and redouble the certainty of success that formulates for it.
The Douro Passport is a project that starts from a simple but dynamic and, essentially, very practical idea. That is, visitors to the Douro region can obtain the Passaporte Douro in the interactive tourism stores of the 19 municipalities and start their journey to discover 76 points of interest in this geographical area of over 4 thousand square kilometers that is the CIMDOURO.
The Passaporte Douro has the partnership of Turismo do Porto e Norte and Instituto dos Vinhos do Douro e Porto, as well as the collaboration of the municipalities it covers and seeks to boost local tourism after two years of stagnation. The document can be obtained in the Tourist Offices of each of the municipalities of the International Douro Community: Alijó, Armamar, Carrazeda de Ansiães, Freixo de Espada à Cinta, Lamego, Mesão Frio, Moimenta da Beira, Murça, Penedono, Peso da Régua, Sabrosa, Santa Marta de Penaguião, São João da Pesqueira, Sernancelhe, Tabuaço, Tarouca, Torre de Moncorvo, Vila Nova de Foz Coa and Vila Real.
Whoever does the adventure of discovering the 76 points can also count on an app for iOS and Android. Besides promotional videos and information about the points of interest, the app also includes a link to the interactive stores of each municipality, allowing you to buy local products.
When passing by each of the points of interest stamp the Passport and when completing his "journey" through the CIMDOURO territory the tourist will receive a certificate of excellence and an exclusive gift from the Institute of Douro and Port Wine.
Discovering the 76 highlights of the Passaporte Douro is an invitation to return to the Douro, this time with the promise of a surprise at the end of the trip.